Our KVM Linux VPS server laid under the SSD storehouse. Path to the highly secured top-notch performance of your projects. Cheap KVM VPS based on the hypervisor virtualization to permits trice resource services. Plus, run with seasoned technology base.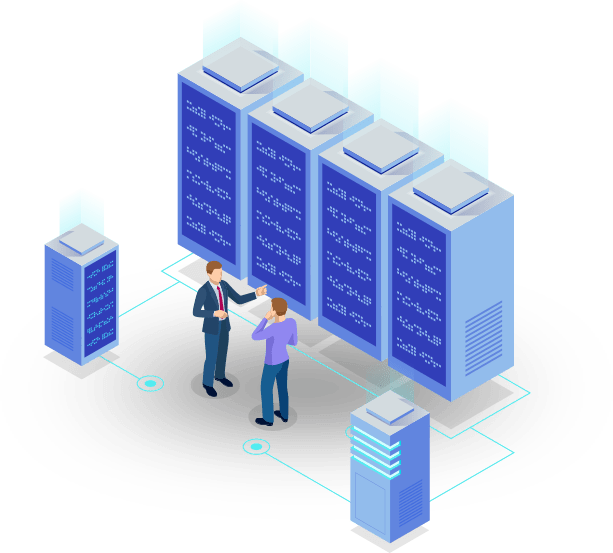 VPS-L2
Premium SSD Hosting platform
1 x 2.7 GHz CPU

2048 MB RAM+

20 GB SSD (RAID)

Bandwidth 1800GB
VPS-L4
Premium SSD Hosting platform
1 x 2.7 GHz CPU

4096

MB RAM+

40 GB SSD (RAID)

Bandwidth 3800GB 
VPS-L8
Premium SSD Hosting platform
2 x 2.8 GHz CPU

8192

MB RAM+

80 GB SSD (RAID)

Bandwidth 7800GB 
VPS-L16
Premium SSD Hosting platform
4 x 2.8 GHz CPU

16384

MB RAM+

160 GB SSD (RAID)

Bandwidth 15900GB 
Pick Your Ideal VPS Business Now
It's time to upgrade your business with different types of VPS hosting. Choose one which is suitable for your business growth.
Learn About Cheapest VPS Hosting Services
DedicatedCore network builds to be on a top physical server. Our Cheap Linux KVM VPS is controlled by KVM virtualization and strengthens over the super faster SSD storage VPS.  Acquire access to standard unmanaged/self-managed stand which admits outstanding stability.
Ready To Buy VPS Service?
Spotlighted features of DedicatedCore best KVM VPS hosting – more computer memory with SSD (Solid State Drives) storage, instant provisioning, hypervisor KVM technology, comprehensive operating system (OS) compatibility and RAID security performance. These are the entire helps you to make a big success in the VPS business industry.
Fully Stable, Affordable and Reliable Services
We are isolated with low-cost VPS servers. If demanded, buy a comprehensive operational control add-ons resources. Don't worry about an unsafe of your system; we will always keep the cheapest VPS business protected. Grasp a 99.9% uptime for your digital platform.
Free Guidance
All our standard virtual private cloud servers are fully unmanaged or self-managed. DC Linux VPS hosting will always provide fully comprehensive support guidance, knowledgebase platform.
Customer Support
Highly skilled best SSD VPS hosting server expert support team is available 24x7x365 days to assist you to resolve any issues that you face with Login, DNS setup and wide range of cPanel functions.
Youtube Video Series
DedicatedCore offers 100+ VPS hosting Video series with any aspect. Extremely efficient and powerful to give high and stable network uptime for your linux VPS hosting.
testimonials
What People Are Saying About
Disappointed by so many hosting companies I'm glad I found DedicatedCore. This is the best VPS hosting services it also provides an excellent support system. As a client, I'm totally satisfied and would suggest going for DedicatedCore only.
I wanted to setup my company website, after comparing and reading reviews of many web host, I finally found DedicatedCore with a positive review, believe me, I had the best experience with DedicatedCore. Their services are awesome and at low budget
Frequently Asked Questions
Learn How it Works!
What is the difference between KVM Linux VPS and Standard VPS?
The best KVM VPS means virtual private server virtualization through KVM technology. The cheap KVM VPS server is designed by x86 processors. In the KVM powered VPS, the resources allocated to one user and they cannot share with other users. KVM is more flexible with Linux, Windows and Custom OS options.
On the other hand, affordable Standard VPS comes with OpenVZ. Using the OpenVZ virtualization, you can share resources with every other client on the host node. It has also considered as container-based virtualization. The low cost standard VPS hosting using high-end infrastructure provides increased redundancy, advanced scalability power and easy to use platform. It is achieved by virtualizing server and splitting the resources amongst the users on that server. We used the enterprise-class equipment throughout the facility. OpenVZ only used for Linux based operating system.
Which are the benefits of best and cheap Linux KVM VPS hosting?
There are several benefits available for unlimited KVM VPS hosting providers. If you find these services, then this is the best Linux VPS hosting for your business. Some of them are listed below:
Powerful Hardware: – The powerful servers are built of multi-core (28 cores / 56 threads) Intel Xeon Gold 6132 processors. You will get 384 GB RAM into each node along with a dedicated 4 Gbps network connection.
Highly Secured Storage: – Linux KVM VPS build on high level safe and reliable enterprise components. Use security tools like Firewalls to protect data from hackers and attacks. Your valuable data hosted on RAID enabled us to use for the redundancy of data.
Customizable and Full Root Access: – You have full access to upgrade or downgrade services. When you want to add or when you want to remove. You can easily manage all that with your end.
Tier III Server Platform: – Build your VPS hosting on very powerful and Tier 3 server infrastructure. This located in the center of Europe (Lithuania).
Inexpensive and Very Cost Saving: – For your kind of information, you will never get the lowest price of Linux SSD VPS hosting as the DedicatedCore offers to you. Check there VPS hosting plans details and pricing by visiting the Linux KVM VPS page. Our worldwide countries services in India, Indonesia, the UK, Singapore, USA, Australia, Canada, Africa, Germany, Europe and many more.
Where are the DedicatedCore KVM VPS server located?
The location of the server never matters to your website speed. Do you have to only think about how the server speed works?
DedicatedCore offers Tier III based data center. Tier 3 means dual-powered servers with redundant and forever cooling infrastructure. It always has an active power technique. In that case, the server never goes down or has any downtime. There maximum ratio of going down is less than two hours per year.
DedicatedCore server location is in Europe (Lithuania), Vilnius. It offers cisco ingredients, which helps you to avoid loss and failure of your worthy data.
Would DedicatedCore offer IPv6 support and how many IPv4 addresses are included?
Yes, we offer IPv4 and IPv6 addresses support. Our DedicatedCore cheapest KVM VPS server virtual machine comes with one primary IPv6 (Internet Protocol version 6) address. Plus there is an option to add more IPv6 addresses.
Every unmanaged/self-managed cheap Linux KVM VPS plan includes one IPv4 address. If you require more, then you can demand to purchase by as add-ons after deployment.
Note: – You will get a maximum of 31 additional IPs per single instance.
What different plans offered by KVM VPS? How much does a KVM Linux VPS cost?
DedicatedCore offers 4 types of attractive and versatile Linux VPS server hosting plans and which can be fully customized to fit your particular hosting needs. Differ from low to high configurations as per the specifications of the clients.
The best part is that all these plans come at an affordable and low-cost price as compare to all other hosting providers on the market.
With DedicatedCore best cloud KVM VPS hosting, you will get 2 GB to 16 GB RAM, 20 GB to160 GB SSD storage, 1800 GB to 15900 GB bandwidth to transfer data. The most important thing is that you will receive upgraded technology from a 2.7 GHz CPU to newest technology 2.8 GHz CPU for a faster processor.  
What are the operating systems (OS) offer by DedicatedCore with KVM VPS?
The DedicatedCore cloud KVM VPS cheap hosting offer various type of operating system such as:
CentOS: – Centos stands for Community Enterprise Operating System. CentOS is a Linux distribution system derived from Red Hat Enterprise Linux (RHEL). The CentOS provides a free, enterprise quality level, community-supported computing platform.
Ubuntu: – Ubuntu is a free and full Linux operating system (OS) with both community and professional support. Ubuntu is primarily designed to be used on particular computers, although a server edition does also exist.
Fedora: – Fedora is also known as Fedora Linux. Fedora is a Linux distribution developed by the community established Project is known as the Fedora Project. Fedora Linux sponsored mainly by Red Hat.
Debian: – Debian is a free Unix-like operating system and freely-available for your computer and network servers. Debian OS is the set of basic programs and utilities that make your computer run.